White Nose Syndrome (WNS) is a devastating illness that has killed millions of hibernating bats all across the nation. Continue reading to learn more about White Nose Syndrome, and how it affects wild bat populations.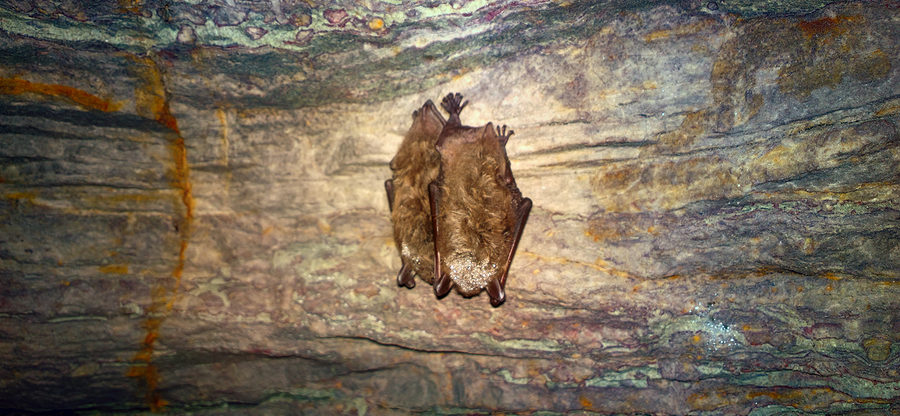 White Nose Syndrome (WNS) Facts
White Nose Syndrome happens to be one of the most misunderstood bat diseases. This fatal malady gets its name from the distinguishable white residue that grows on the snouts and wings of infected bats during hibernation. The residue that grows on the noses of bats is actually a fungus caused by the fungal pathogen, Pseudogymnoascus destructans. Back in 2010, new evidence proved that a fungus called Geomyces destructans can also cause WNS in bats.
Discovery and Range
The initial documentation of White Nose Syndrome occurred in 2006 near Albany, New York. The following year, several nearby caves were recorded to have WNS infected bat colonies. From there, the deadly disease continued to spread across the country, as well as Canada. As of October of 2017, the fungal pathogen has been detected in 33 U.S. states and 5 Canadian provinces. Furthermore, the actual disease has been confirmed in 31 of the 33 U.S. states, and in all 5 Canadian provinces.
So far, Canadian White Nose Syndrome has killed more than 7 million bats, and has successfully wiped out entire colonies. Some of the most at-risk bat species include the Indiana bat and the Gray Bat. These species are federally-endangered, and at a higher risk of becoming extinct due to this disease. Common species affected by WNS include the Big Brown bat (ptesicus fuscus), Eastern Small-Footed bat (Myotis leibii), Gray bat (Myotis grisescens), Indiana bat (Myotis sodalis), Little Brown bat (Myotis lucifugus), Tricolored bat (Perimyotis Subflavus), and the Northern long-eared bat (Myotis septentrionalis).
Searching for a Workable Solution
The extensive rate of mortality is devastating, and unfortunately, there is no cure. Research laboratories and state and federal biologists continue to investigate and study these WNS deaths, in hopes for a solution. In fact, back in March of 2012, the U.S. Fish & Wildlife Service announced 8 grants totaling approximately $1.6 million to continue the examination of white-nose syndrome, and to find ways to manage it.
Virginia Bat Removal and Control Services
Call Virginia Bat Pros at 804-729-9097 for humane bat removal and control in Virginia. We serve all of Old Dominion, including Richmond, Petersburg, Short Pump, Lynchburg, Charlottesville, Norfolk, Chesapeake, Newport News, Virginia Beach, and all of their surrounding areas, with 24 hour bat removal, as well as, numerous residential and commercial bat exclusion services, such as bat cleanup and restorations for bat damages. We even provide insurance work! Contact us at 804-729-9097 to request a free estimate, anytime.