Now that you have made the wonderful decision to add bat houses around your property, your first step is to decide between buying and construction. You can choose to make your own bat house, using several helpful bat house blueprints and templates available online; or, you can choose to simply purchase pre-made bat houses that are specially-designed with the highest standards of safety for bats and the environment. If you do decide to make your own, be sure you follow the guidelines for doing so, as bat houses require several special features and dimensions in order for them to be humane, as well as, safe for the surrounding environment.
Continue reading to learn what else you need to know about installing bat houses on your property, including who to call for 24 hour emergency bat removal service.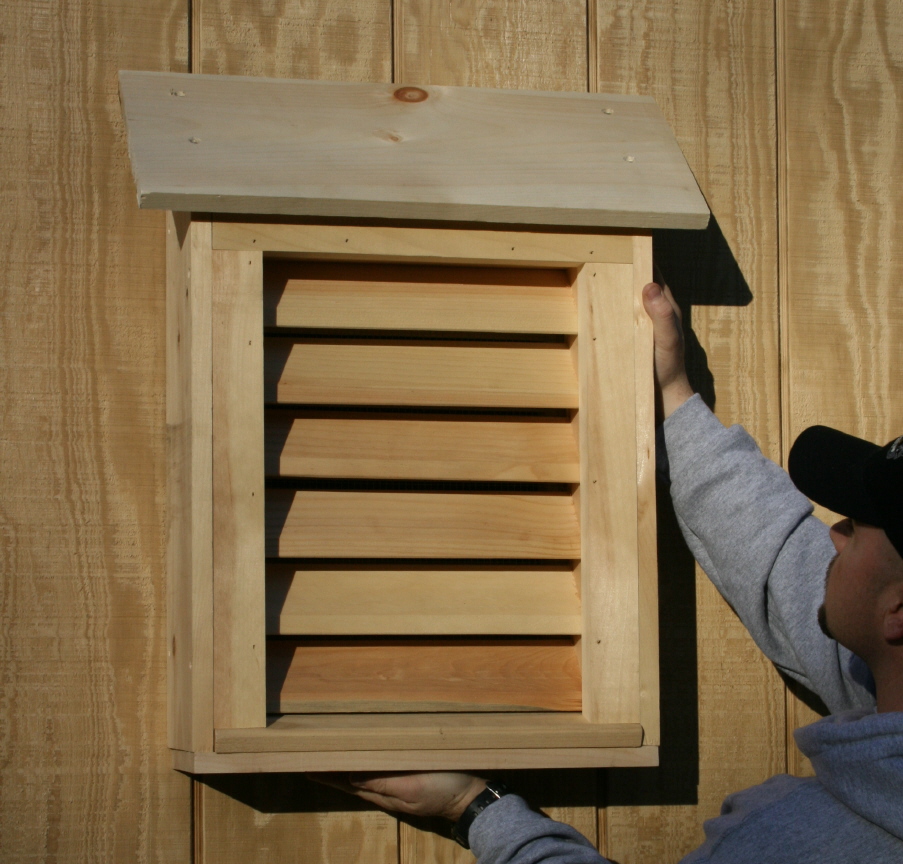 When to Install Bat Houses
If you plan on using night-vision cameras to capture beloved bat activity on video footage, you will want to install your bat house once the weather is warm, usually around June or July. Not only is this when bats are more active, it is when their food is more active, like mosquitoes, gnats, flies, moths, and more. If you install bat houses now, you are still doing a great service for the local bat populations in your area, so continue with your plan if you already have one!
Where to Mount Bat Houses
The location of your bat houses is a vital part of ensuring safety and function for you, the bats, and the surrounding environment. Too close to your house can pose nuisance bat risks, while too far can take away from your personal enjoyment. Furthermore, mounting them in improper areas can pose additional risks to the bats, as well as, the surrounding trees and wildlife. So designate an area on the perimeter of your property, preferably near a large body of water, like a creek, river, steam, or pond.
As for actual installation, it is important to never mount bat houses on trees. Not only do branches and foliage make it more challenging for bats to land and take flight, the bat houses do not get enough sunlight, making them too cold for bats. Bat houses need around 6 to 8 hours of sunlight each day. Also, bats are more vulnerable to predators that sit in trees. Instead, they should be mounted on wooden posts, steel poles, pivot poles, or on the sides of buildings. And be sure they are at least 20 to 30 feet from tree branches.
How to Manage Nuisance Bat Problems
Call Virginia Bat Pros at 804-729-9097 for safe and humane bat removal and control assistance in Old Dominion. We serve all of Virginia with 24 hour bat removal, as well as, numerous residential and commercial bat exclusion services, such as bat cleanup and restorations for bat damages. We even provide insurance work! Contact us at 804-729-9097 to request a free estimate, anytime.