There are all sorts of things in this world that we don't know about, and bat droppings are one of them. Most people have never seen bat droppings and, until now, you probably weren't even aware that they existed. But believe it or not, bats do indeed produce droppings, and as it turns out, they can be pretty dangerous.
Continue reading to learn what you need to know about bat guano, plus how to get rid of nuisance bats with responsible bat control strategies.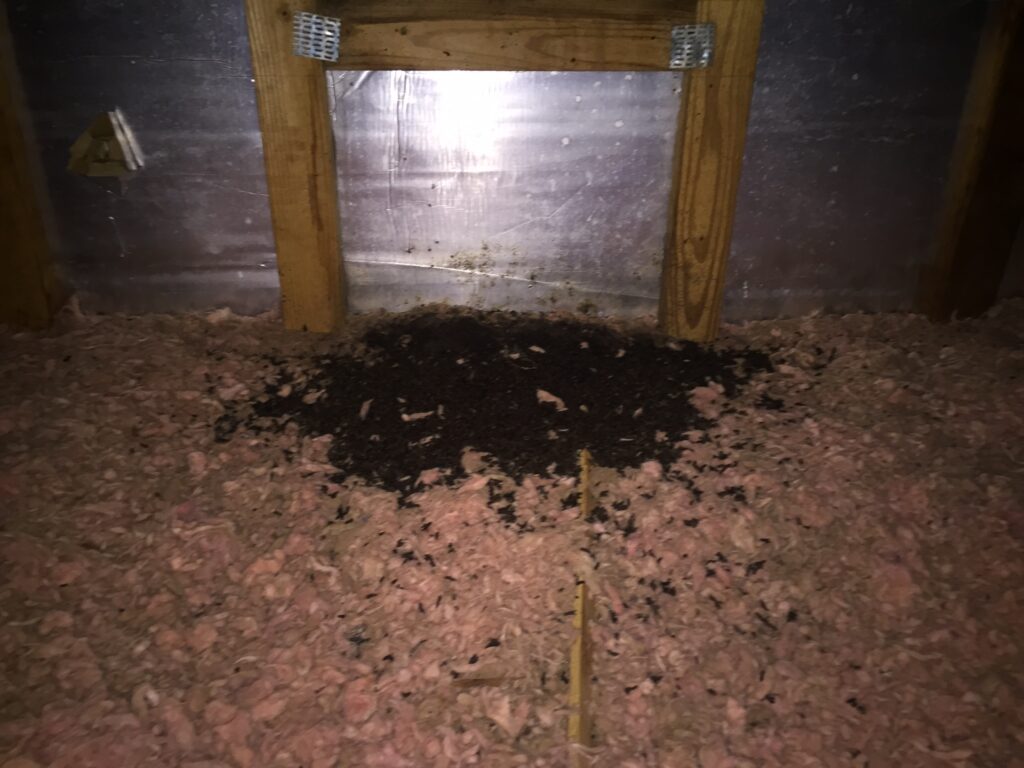 Bat Droppings are Hazardous Waste
Guano is the droppings of bats or other animals. It is often found in caves or on ledges where the animals roost. Guano is composed of urine, feces, and other organic matter. The appearance of guano can vary depending on the species of bat. It may be light or dark brown, black, or greenish. It is usually moist and has a strong ammonia odor.
To identify guano, look for the distinctive odor of ammonia and signs of staining near a roosting site. Look for small piles of droppings or larger accumulations on cave walls or ledges. If you see bats near these areas, there is a greater chance that guano is present. It is also important to remember to wear protective gear when entering an area with bat droppings, such as a face mask and gloves.
By being able to identify guano, people can take the proper precautions necessary to protect themselves from potential health risks. Guano can be dangerous if it is disturbed. The ammonia in the droppings can cause respiratory problems and skin irritation. It can also contain bacteria and parasites that could spread disease. Therefore, it is important to identify guano before entering an area with bat droppings.
Ecological Importance of Bats
Though guano can be dangerous, it is also a valuable source of fertilizer and other nutrients in certain parts of the world. Bats also play a vital role in pollination and seed dispersal, and they are important predators of insects. In fact, some bats can eat up to 1,000 mosquitoes in a single night! By controlling insect populations, bats help to protect crops and reduce the spread of disease. In addition, bats play an important role in cave ecosystems, serving as a food source for other animals such as snakes and bats. Consequently, bats play a vital role in maintaining global ecosystem health.
Bat Control in Virginia
As you can see, bats are an important part of our ecosystem, and they should be protected. However, when bats start living in close proximity to humans or businesses, it can become a nuisance. Bat guano can damage property and create health hazards, and the noise bats make can be disruptive. Thankfully, there are professional wildlife abatement services that can safely control bat populations using humane strategies.
If you're experiencing a problem with bats, don't hesitate to call on the experts for help. Contact Virginia Bat Pros at 804-729-9097 for safe and humane bat removal and control in Richmond, Virginia and its surrounding counties. We serve both residential and commercial clients.
Related Posts:
Learn How Bat Guano is More Than Just Animal Waste
How Bat Guano is Used as a Fertilizer
There Might Be a Bat Infestation in Your House if You See These Signs