Virginia Bat Pros is your solution to prompt and professional bat trapping, extraction, exclusion, and damage restoration in Stafford or Spotsylvania County, as well as, all areas along the Rappahannock River! Continue below to learn exactly why we are a leader among bat removal and control companies in Virginia, and how to get started with a free quote or advice today!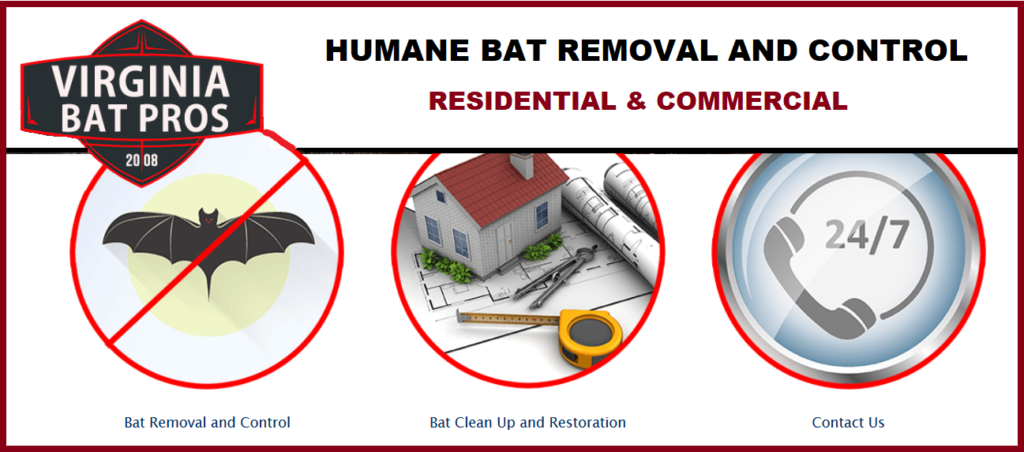 Bat Damages, Hazards, and Potential Threats
Bats cause an extreme amount of structural damage and even pose health risks to both people and pets. And since bats only need around 3/8th of an inch to gain access into a home or building, your property can easily be at risk. It goes without saying that you do not want a bat problem on your hands. So, if you find yourself hearing strange nightly sounds in the attic or chimney, or actually spot bats flying around your property, it is important that something be done to stop them from causing damage to your home or building. Bat removal is a complex job, so you'll need the assistance of our skilled, certified bat abatement professionals at Virginia Bat Pros!
What Our Pros Can Do For You
We have the expert knowledge and resources to provide workable solutions for bat infestation problems. We provide a wide range of professional bat removal and control services for all of Fredericksburg, Virginia and its surrounding districts, including Stafford County, Spotsylvania County, and all areas along the Rappahannock River. We help both residential and commercial property owners with bat extraction and exclusion, 24 hour emergency bat removal, bat cleanup and restoration, bat inspections, bat proofing, preventative maintenance, post service checkups, insurance claim work, free estimates, bat information, and much more.
Our bat removal specialists are licensed, bonded, and insured, and have more than 10 years of hands-on experience. We only use the safest and most humane methods of bat extraction and exclusion, and the case that a bat must be relocated, we take great care in transporting them to a faraway habitat that is safe and suited for them. Furthermore, we adhere to all industry accepted standards and best practices for bat abatement, and remain in accordance will all local, state, and federal laws that govern wildlife.
Why Choose Virginia Bat Pros?
☑ Licensed, Bonded, & Insured
☑ Local Community Members
☑ Over 10 Years of Experience
☑ 24 HR Emergency Services
☑ Safe & Humane Methods
☑ Affordable and Competitive Prices
☑ No Hidden Charges or Fees
☑ Free Estimates & Inspections
☑ Commercial & Residential Service
☑ Insurance Claim Compatible
☑ Superior Customer Support
☑ Broad Service Area
Get a Free Quote for Fredericksburg Virginia Bat Removal Service
There are hundreds of bat removal companies to choose from in Virginia, but it is important to select a company that retains the proper resources, skills, and credentials to implement safe and effective solutions that stand the test of time. You can trust that we are truly qualified professionals who are motivated to exceed our clients' expectations using the highest degree of professionalism and integrity possible. From start to finish, we are there for all clients every step of the way to ensure their complete safety and satisfaction.
Contact our office at 804-729-9097 to learn more about Fredericksburg Virginia bat removal services, and how to get started with your remediation, today. Request free estimates, information or advice, anytime.