Bats in Virginia are really small, like "they can squeeze through a gap as slight as 3/8ths of an inch" small. This is exactly how they get inside of Virginian homes and buildings. Even the smallest, most insignificant opening can be a wide open door for a bat looking to make a new roost. Bats are generally found infesting attics and crawl spaces, but it is very common to discover them living inside chimneys too. If you suspect that you have bats in the chimney in your Virginia home or business, it is important that you act fast.
Continue below to learn exactly what you need to do to get rid of bats in the chimney!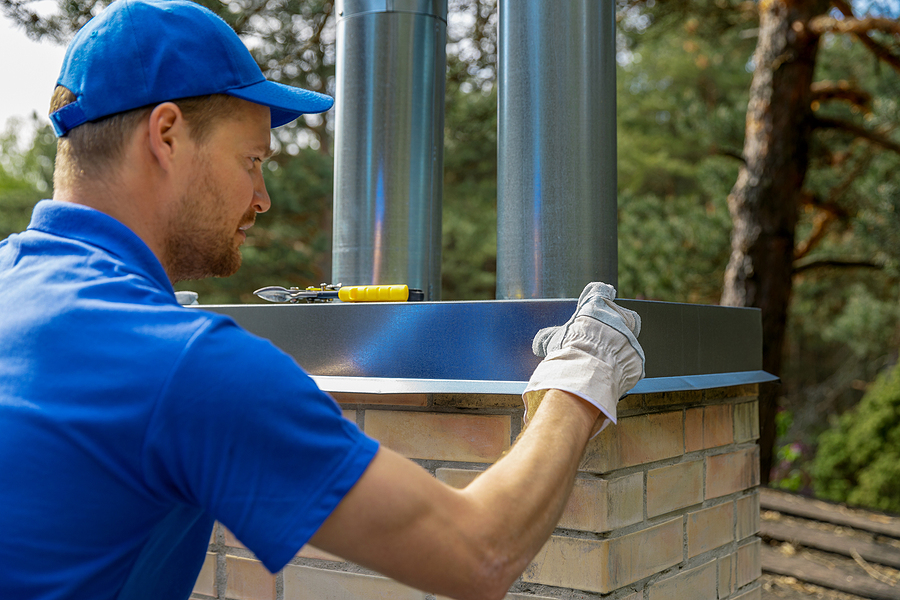 Why You Have Bats in Your Chimney
Why did a colony of bats choose to roost inside your chimney? Well, the flu was open, the space was available, it provides a dark, cozy shelter that protects them from predators, and it is very easy to get in and out of. Basically, your chimney is prime real estate for bats. Even if your chimney is equipped with a cap or the flu is closed, bats can still find a way in, especially if the cap is damaged or warped, or the flu is cracked just slightly.
Never Light a Fire!
Before delving into the process of getting rid of bats in a chimney, there is something you need to understand. It is critical that you DO NOT START A FIRE IN YOUR FIREPLACE to smoke bats out of the chimney. Not only is this incredibly inhumane, being as though local bat populations are extremely beneficial for our environment and economy, but it is also against the law to harm wildlife, especially bats, which are a protected species. Several common bat species in Virginia are listed as Federally-endangered or threatened, so you could face serious consequences if you were to kill or harm such a bat.
How to Get Rid of Bats in a Chimney
So, what can you do to get rid of bats in the chimney? There are a few options, all of which are perfectly affordable for all income levels. The first and most effective approach to get rid of bats in a chimney is to hire a professional Virginia bat removal company to set up devices and strategies that will divert the bats out of the chimney space and not let them return.
Bat valves and cones are great animal-proofing tools for bats in the chimney, attic, roof system, wall voids, and more. Screen covers for vents are also effective. However, you must have them installed by a certified professional who is licensed and permitted to perform bat abatement work. It is not recommended to install bat control devices like these on your own.
Following bat removal and exclusion, your wildlife control specialist will certainly recommend a chimney cap. Just be sure to choose a model that is compatible with your chimney and good quality. Chimney caps require annual inspection to ensure they have not corroded or warped due to inclement weather, extreme temperatures, and wildlife tampering. By ensuring your chimney cap is in good condition, you can better prevent future bat intrusions.
Are you asking yourself, "how can I get rid of bats in my chimney?" If so, you are in the right place!  Contact Virginia Bat Pros at 804-729-9097 for TWRA licensed bat removal and bat-proofing service in Richmond, VA, and its surrounding towns. Our bat abatement specialists serve residential and commercial properties all throughout the state.
Related Posts:
Do You Have Bats in the Attic?
Can I Get Rid of Bats Myself?
Common Signs of Bats in the Wall