Here in Virginia, there are around 16 species of bat found around our local ranges. Common species include the Gray bat, Indiana bat, Hoary bat, Silver-Haired bat, Red bat, and of course, the Virginia Big-Eared bat. All Virginia bat species, and more, can be classified as either social or solitary. But their classification largely depends on their natural behaviors.
Continue reading to learn the difference between social and solitary bats, including which local bat species fit into each category.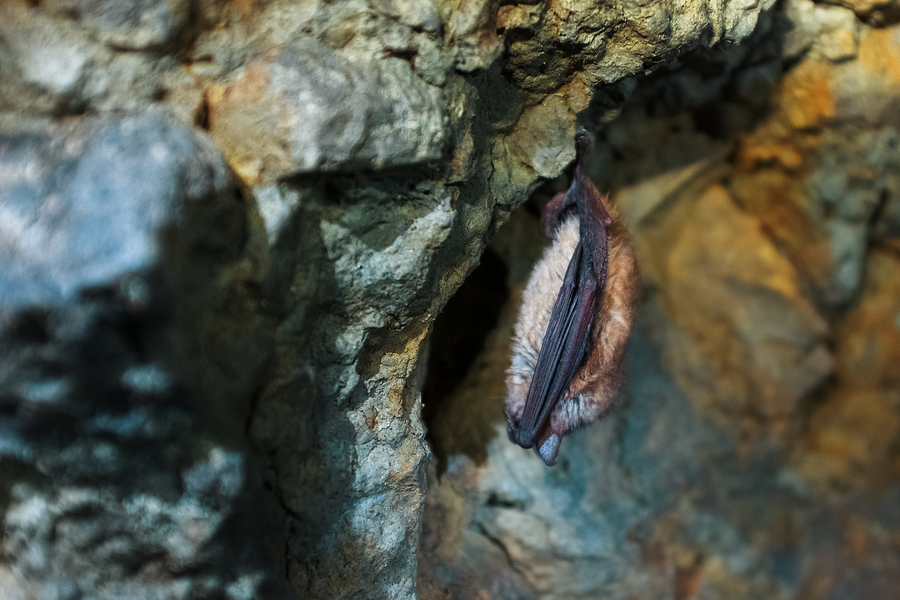 Solitary Bats
Solitary bats are just that: bats that keep to themselves. They do not settle and roost in colonies. Instead, they live alone and migrate south to warmer areas for the winter. Some species, however, are known to hibernate for the winter, rather than migrate. Generally, solitary bats take up shelter in trees along riverbeds, or in rock crevices. Common species of solitary bats here in Virginia include the Hoary bat, Red Bat, and Silver-Haired bat.
Solitary Bat Species:
➞ Silver-Haired Bat
➞ Red Bat
➞ Hoary Bat
Social Bats
Social bats are the exact opposite of solitary bats. They are colonists, meaning they take up shelter as groups, and hibernate in their chose shelter for the winter. Most often, social bats are found roosting in hollowed trees, abandoned mines, buildings, and even residential settings, like attics and wall voids. Common species of social bats include the Little Brown bat, Big Brown bat, Tri-Colored bat (formally known as Pipistrelle), Evening bat, Indiana bat, and Northern Long-Eared bat. Of these species, the Indiana and Evening bat are listed as endangered.
Social Bat Species:
➞ Indiana Bat
➞ Northern Long-Eared Bat
➞ Gray Bat
➞ Southeastern Bat
Social bats that are not typically found in Virginia: The Little Brown Bat, Big Brown Bat, Tri-Colored Bat (Pipistrelles), and Evening Bat.
Putting Up With Nuisance Bat Problems in Virginia?
Call Virginia Bat Pros at 804-729-9097 for safe and humane bat removal and control assistance in Old Dominion. We serve all of Virginia and its surrounding areas. We offer 24 hour bat removal, as well as, numerous residential and commercial bat exclusion services, such as bat cleanup and restorations for bat damages. We even provide insurance work! Contact us today for a free estimate.