In a previous blog, we discussed tips for adding bat houses to your property as an excellent way to safely support the local bat populations in your community. We talked about procurement and construction, installation and mounting, and much more. However, we have yet to provide tips on how to take good care of your bat houses! Fortunately, now is the perfect time to check on yours to ensure it is in good condition.
To get started, continue reading for some helpful tips on how to maintain a bat house.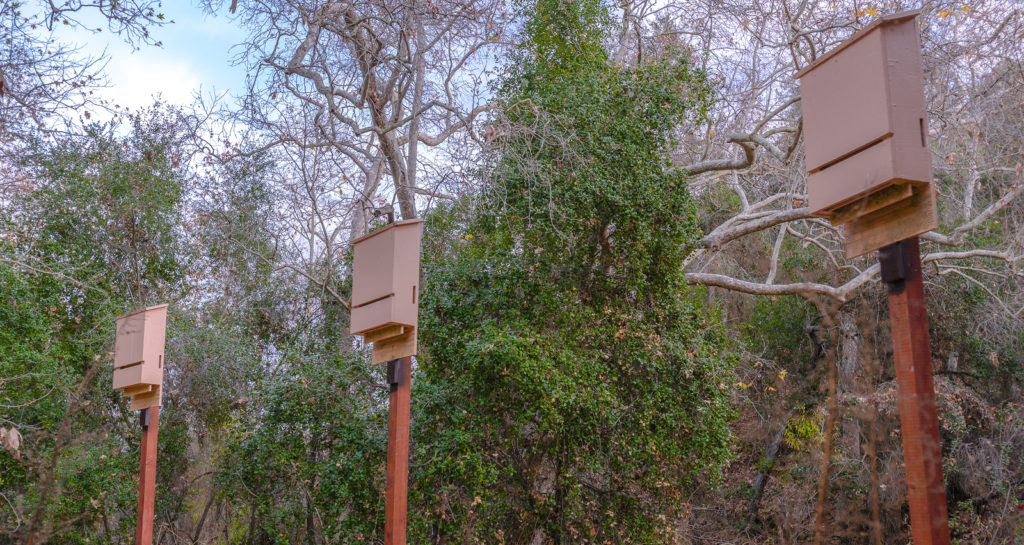 What You Will Need:
If you want to take good care of your bat house, you have to start with the right supplies. Be sure to have thick utility gloves, safety goggles, face mask, flashlight, and a pair of scissors. You may not require all of these supplies, but they are the top-recommended ones to have on hand for bat house maintenance.
What To Do:
Never inspect or tend to a bat house when it is occupied. For this reason, it is best to save your bat house inspections for times when bats are not around, like during dusk or at night when they are out hunting for insects.
To take care of a bat house, you want to inspect it on a routine basis. Once a month during active seasons (February through September) is a good schedule to adhere to in the beginning. When you have been caring for your bat house for a while, you'll learn its needs more, and can change the frequency at which you tend to it each month. In the winter, you will want to check it only once to ensure there are no broken seams in the construction of the house.
Upon inspection, make sure there are no broken seams that can let sunlight in through the roof. If there are cracks or openings, they will need to be repaired. Sunlight can disturb sleeping bats, and cause them a lot of stress. Roofing paper and roof repair sealant are best for such repairs. Be sure the screens, baffles, and interior partitions are intact too.
Also be sure to check for and remove wasp nests at the top of the bat house. They will be gray, honeycomb structures. Although wasps are not a problem for bats, the nests can get too big and disturb their comfort and ability to use the house.
If you see conical nests, these are likely hornets and yellow jackets. As aggressive insects, you will need to remove these nests and implement a preventive treatment to stop them from coming back. Do not use a chemical pesticide that can be poisonous to bats.
If you notice bats sticking out of the bottom of the house throughout the year, it could be due to overcrowding. In this case, you know it is time to add another bat house to your collection.
How to Deal With Nuisance Bat Problems
Sometimes bats can be a nuisance, even though they don't mean to be. When this happens, trust a licensed and insured Virginia bat removal company for safe and humane bat abatement service at an affordable price. Contact Virginia Bat Pros today at 804-729-9097 to request a free estimate or information about our services, prices, and more. We look forward to delivering affordable and long-lasting solutions for your bat problems!