There are several wildlife control companies to choose from in the Old Dominion State, but very few compare to the level of skill and commitment of our specialists here at Virginia Bat Pros! Our company was built on a strong foundation of old-fashioned values like quality and respect. Not only are we dedicated to providing unparalleled client support, we insist on maintaining affordable, economy-based prices.
Our licensed, bonded, and insured bat removal specialists have more than 27 combined years of hands-on experience, and provide a wide range of bat abatement services for both residential and commercial properties, including extraction, exclusion, cleanup and restoration, home owners' insurance claim work, property inspections, 24 hour emergency service, and much more.
Take a look below to learn what to expect from our services.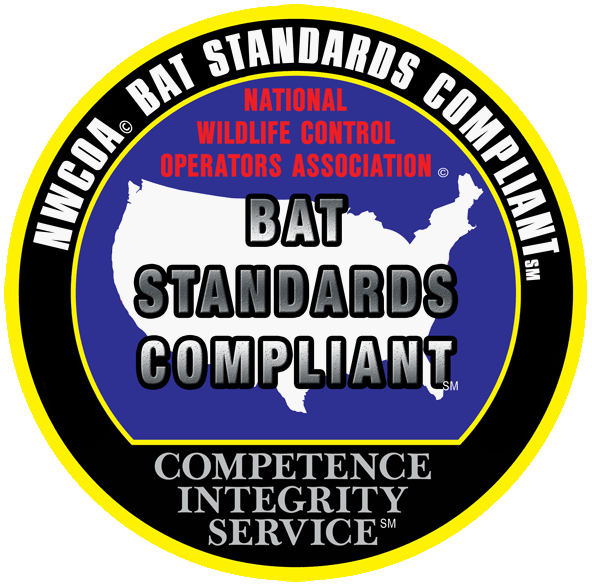 Professional Bat Extraction and Abatement System
Want to know what really sets our company apart from our industry contemporaries? It's our proven, methodological approach to bat removal and control. Whether a few bats or an entire colony, our licensed and trained professionals know exactly what to do, all while protecting those around them and the bats themselves. Here's how it works:
► INSPECTION
We offer free primary inspections to assess a nuisance bat issue. Our professionals start by systematically examining a property, both interior and exterior areas and components. With so many years of hands-on experience and training, we know precisely where to look and what to look for, so bats have no chance at hiding from us! After the inspection is complete, we carefully evaluate all the evidences in order to find bat locations and entry points.
► EXTRACTION
Upon finding the bats hiding places, we will then implement all of the industry-accepted methods and best practices for bat extraction and exclusion. The actual procedures used will depend on various factors, such as the bats' location, colony size, type of property (residential, commercial, multi-story, etc.), season, and much more. The period of time to complete the whole process will depend on these same factors.
► EXCLUSION
Once we have extracted all of the bats from a property, our next priority is to stop them from coming back in the future. This is why we don't just identify a primary point of entry for bats; instead, we painstakingly examine every possible entry point. From there, we begin all of the necessary strategies to close up entry points using non-toxic, high quality products, such as high-density polyurethane foam, heavy gauge galvanized steel mesh screening, industrial caulking, and more.
► RESTORATION
The final part of the bat removal and control process involves cleaning up the mess they left behind, and then restoring the structural damages they caused. This includes hazard waste removal, decontamination, sanitizing, deodorization, bat bug remediation, drywall repair, floorboard replacement, attic repair, crawl space repair, and any other repairs needed for damages caused by bats.
Get a Free Quote for Virginia Bat Removal Service Today
Contact our office at 804-729-9097 to learn more about bat removal, bat cleanup and restoration in Virginia, and how to get started with your solution to nuisance bats, today. We offer both residential and commercial bat removal services, and serve all cities and counties in Virginia. Request free estimates, information or advice, anytime.