When it comes to nuisance bat abatement, there is nothing more important than safety; safety for you, for bats, for your home, and the surrounding environment. In order to ensure optimal safety, you must be sure to hire a qualified bat removal and control company that retains the proper licensing and insurance coverage in your town. Furthermore, you must choose a company that only uses safe and humane, non-lethal methods for bat removal and control. Bats are important parts of our Eco-system, and although they can be destructive, they must be protected and preserved to the best of our abilities.
So how do you find a qualified bat removal and control company in Virginia? The answer is easy: Call the licensed and insured professionals at Virginia Bat Pros for trusted service at an affordable price!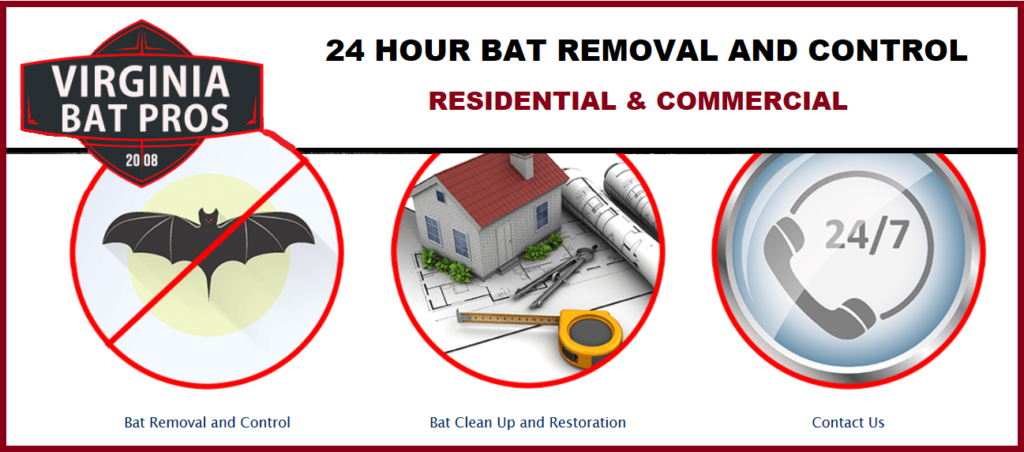 Virginia Bat Removal and Control You Can Trust
Why Choose Virginia Bat Pros?
That answer's simple! Home and business owners all across the Old Dominion continue to choose us for trusted bat removal and control services, including clean up and restoration services, because we have the credentials that prove our record of success! Just take a look for yourself:
☑ Licensed, Bonded, & Insured
☑ Local Community Members
☑ 27+ Combined Years of Experience
☑ 24/7 Emergency Service
☑ Safe & Humane Methods
☑ Economy-Based Prices
☑ No Hidden Fees or Charges
☑ Free Inspections & Estimates
☑ Residential & Commercial Service
☑ Insurance Work Compatible
☑ Unparalleled Customer Support
☑ Wide-Spread Service Area
How to Get Started With Pros Bat Removal and Control Services:
❶ Call Our Critter Control Experts at 804-729-9097
Virginia Bat Pros provides residential and commercial bat removal and control. We also offer 24 hour emergency service.
❷ Schedule a Time for a Free Full-Property Inspection
Virginia Bat Pros offers comprehensive inspections to assess your bat problem and provide workable solutions within our budget.
❸ Sit Back and Relax While We Eliminate Your Bat Problem!
Not only does we get rid of bats safely and humanely, but we also provide cleanup services, and even restorations for damages caused by bats.
Virginia Bat Pros Maintains a Broad Service Area in the State
Here at Virginia Bat Pros, we are proud to retain a staff that is full enough to maintain a wide-spread service area in various cities and townships throughout Virginia. Areas we service include Richmond, Chesterfield, Chester, Midlothian, Bon Air, Short Pump, Charlottesville, Goochland, Louisa, Fluvanna, Orange, Waynesboro, Staunton, Albemarle, Powhatan, Amelia, Mineral, Gordonsville, Earlysville, Keswick, Henrico, Chesapeake, Hampton, Glen Allen, Elkton, Brandermill, Ashland, Woodlake, Harrisonburg, Luray, Mechanicsville, Petersburg, Colonial Heights, Newport News, Norfolk, Portsmouth, Roanoke, Rockingham, Barboursville, Salem, Tidewater Virginia, Hampton Roads Virginia, Shenandoah, Virginia Beach, Williamsburg, Yorktown, and Hanover.
Do you suspect that you have bats in the attic or other area of your house? Contact us at 804-729-9097 to request a free quote for bat removal and control in Virginia.
You Should Also Read:
The Top Three Signs that You Have Bats in the House
7 Things You Should Never Do If You Have Bats
What To Do If You Find a Bat