When a home or property has been invaded by bats, the degree of damage that accrues depends on the length of time the animals spent living within the said area. Bats are fascinating creatures but can unfortunately cause a considerable amount of structural damage and discomfort in a small amount of time. Attics, sheds, garages, porches, decks, crawl spaces, basements, roofs, and even outdoor jungle gyms for children can be desirable nesting spots for wild bats.
Continue reading to learn about the common home restoration solutions for bat damages; and to prevent bats from coming back in the future.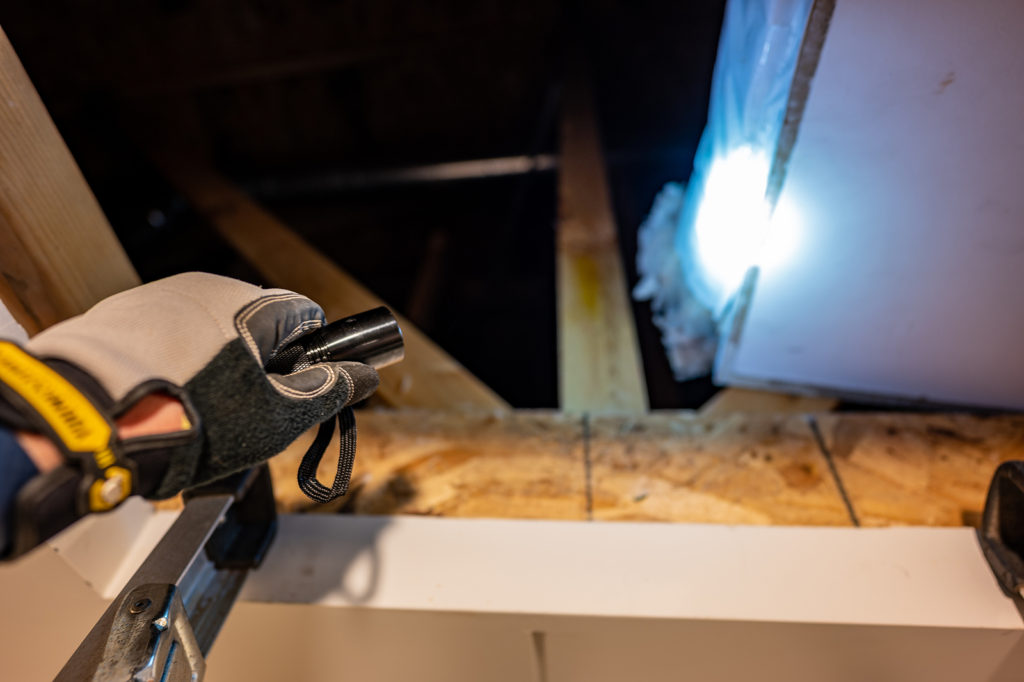 Common Damages Caused by Bats in the Attic
When bats invade an indoor area, such as attics and crawl spaces, the damages become much more evident. Bats enter our residential and commercial properties in order to seek shelter from harsh or cold weather. In these particular spaces, bats breed, feed, and nest for the entire season, unless they are discovered and eliminated sooner.
Bat roosting activity can cause quite a mess and extensive structural damages within a property. For example, urine and bat guano accumulation can saturate particle board, leaving unsightly yellow and brown stains on the ceilings and walls within the residence. This also causes lingering odors, which we will discuss further in this blog.
Not only will urine and dropping buildup weaken the flooring, soil insulation, and ultimately jeopardize the overall stability and foundation of your attic's structure, but eventually, the smell of this accumulation will also begin to make its way through the property. These damages are repaired by removing the saturated floorboards and replacing them with strong sturdy ones. Then this area and the home will require odor removal.
Lingering Odors From a Bat Infestation
Odor and foul smells are another issue with bat infestations. Not only can these animals cause physical damages to wood, flooring, walls, and ceilings; they can be the root of a nasty smell that lingers within the property or home. Once an area such as an attic or crawl space is soaked through with bat droppings and other undesirable bat excrement, the smell will eventually take over and surpass the saturated area. This can also attract other pests like flies, gnats, fleas, lice, mites, and more.
This is one way home and property owners recognize a bat problem to begin with. It requires professional bat control services and equipment to securely remove these odors and mess. Typically, these same companies will offer restoration services as well. This way, you can remove a bat problem, clean up the mess, and repair the damages all through one company.
Additional Damages Caused by Bat Infestations:
✔ Ripped Attic Insulation
✔ Chewed Electrical Wiring
✔ Saturated Concrete and Particle Board
✔ Sheet Rock Damage
✔ Wall and Ceiling Stains
✔ Dry Wall Damages
✔ Lice, Ticks, and Flea Infestations
✔ Bat Diseases
✔ Roof Shingle Damages
✔ Garages
✔ Sheds
✔ Porches
✔ And More
How to Get Rid of Bats and Clean Up the Mess They Leave Behind
Do you suspect that you have bats in the attic of your Virginia home or business? If so, you need to act fast before the damages can worsen.
Contact Virginia Bat Pros at 804-729-9097 for comprehensive bat removal and control services in Richmond and all surrounding areas, including Richmond, Petersburg, Chesapeake, Newport News, Virginia Beach, and all of their surrounding districts.
You Might Also Like:
Which Bats are Most Common in the Western Parts of Virginia?
Products That are Not Recommended for Bat Control
If I See a Bat During the Day, Does it Have Rabies?