Virginia Bat Pros is a Bat Standards Compliant and Certified Company. But that is not the only reason why you should choose our professionals for safe and affordable bat abatement service in Old Dominion!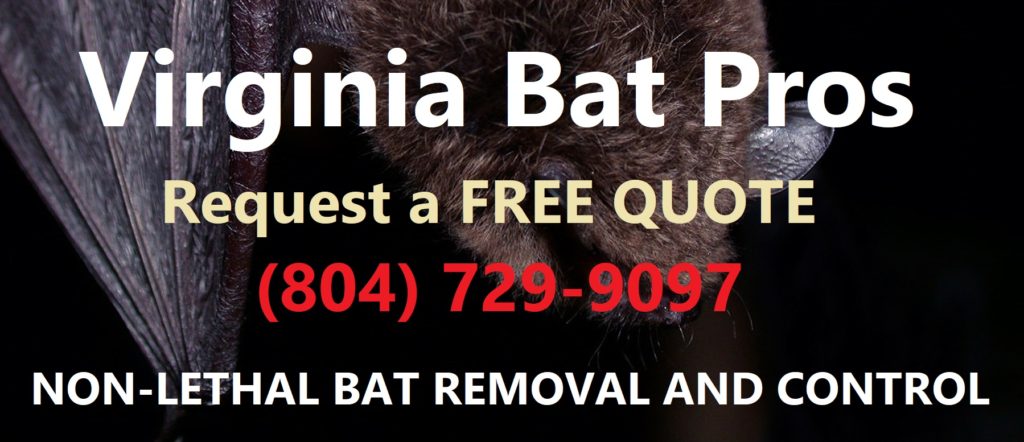 🎇 All-Inclusive Services You Can Trust
Our company, Virginia Bat Pros, is a licensed, bonded, and insured bat removal and control business with more than 27 years of experience in the wildlife rescue and control industry. We offer a wide range of services for both residential and commercial clients, including bat extraction, exclusion, prevention, cleanup and sanitation, damage repairs and restoration, emergency 24 hour service, estimates, inspections, and free advice. Some homeowners' insurance policies are compatible with restoration and repair work for bat infestations, and we can work with them to get the job done right, at an affordable price.
🎇 We Truly Love Bats!
As supporters of local bat populations, we never use inhumane or lethal methods to remove bats, and instead, implement scientifically-proven strategies that will get rid of bats without harming them or your home. Once extracted, bats are relocated to a faraway, safe habitat where they can live out the rest of their lives in peace.
🎇 Top Resources and Credentials
Our certified teams at Virginia Bat Pros retain the latest technologies and state of the art equipment to solve bat problems safely, effectively, and efficiently, doing everything in their power to ensure your property is protected against nuisance bats. For instance, we use the highest quality materials and resources to mend openings, such as heavy gauge galvanized steel mesh screening, industrial caulking, high-density polyurethane foam, and more. Also, as members of the National Wildlife Control Operators Association (NWCOA), you can trust that we take their job very seriously.
🎇 Free Quotes and Same-Day Service
Call Virginia Bat Pros at 804-729-9097 for safe and humane bat removal and control assistance in Old Dominion. We serve all of Virginia, including Richmond, Petersburg, Short Pump, Lynchburg, Charlottesville, Norfolk, Chesapeake, Newport News, Virginia Beach, and all of their surrounding areas, with 24 hour bat removal, as well as, numerous residential and commercial bat exclusion services, such as bat cleanup and restorations for bat damages. We even provide insurance work! Contact us at 804-729-9097 to request a free estimate, anytime.