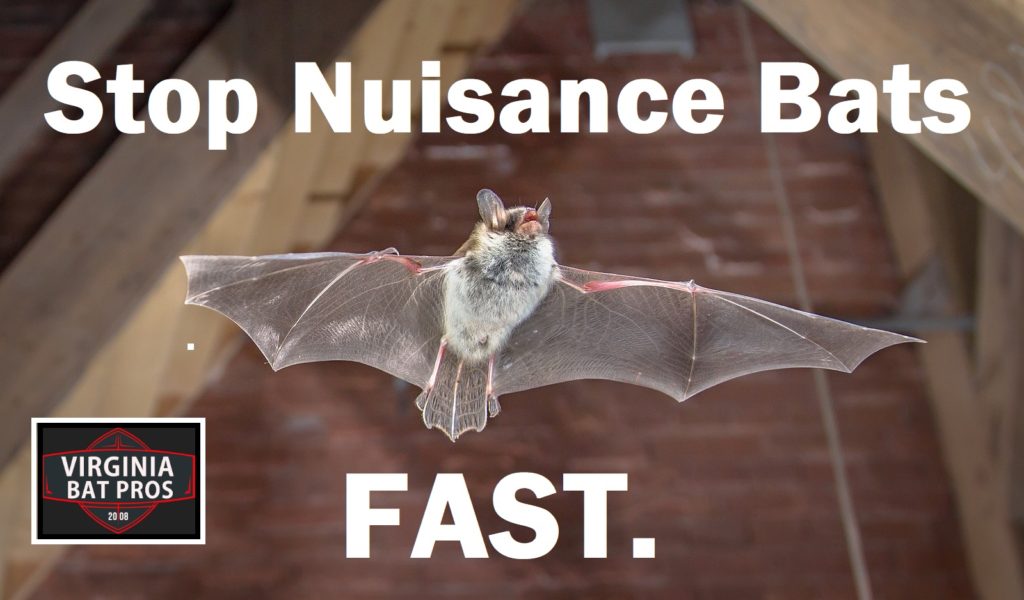 Bats are exceptional helpers in the surrounding Eco-systems when it comes to insect control; but when it comes to homes and businesses, they are not something you want to have around. Not only are bats capable of causing tremendous structural damage inside and out, but their presence can also pose several health risks to both people and pets. Unfortunately, bat infestations are quite common since they can gain access inside somewhere through a hole as little as 3/8th of an inch wide.
So many homes and buildings are susceptible to bat infestations. And once they are inside, the problems really start to get serious. They can get through crumbling mortar, dry rotting wood, attic vents, exterior cracks, and more. For these reasons, it is vital to address a bat infestation problem right away by contacting a local and trusted Virginia Wildlife Removal and Control Company for non-lethal bat abatement service.
So, who can you trust for prompt and professional bat abatement and extraction in a moment's notice? Residents of the Old Dominion will tell you to call none other than the leaders in bat removal and control:

Bat Removal and Control in VA
Here at Virginia Bat Pros, we have the tools and resources necessary to extract and exclude nuisance bats, safely and humanely. We offer a long list of residential and commercial services, including bat removal, bat control, bat cleanup and restoration, inspections, estimates, and much more. We also provide emergency service and can even work with your homeowners' insurance company to repair damages caused by bats.
Getting Rid of Bats for Good is Our Specialty
We use a focused approach to locating the openings that bats use to enter your home, and then use the highest quality materials and resources to mend them, such as heavy gauge galvanized steel mesh screening, industrial caulking, high-density polyurethane foam, and more. When it comes to live bat extraction, we never harm, trap, or kill bats. Instead, we use a safe and humane method that works to move bats out and prevent their return.
We Serve Clients All Throughout Virginia
We serve all of Virginia, including Richmond, Petersburg, Short Pump, Lynchburg, Charlottesville, Norfolk, Chesapeake, Newport News, Virginia Beach, and all of their surrounding areas. When you hear noises in the attic, or spot some suspicious animal droppings around your window seals, it is time to give our licensed and insured specialists a call for safe and professional bat removal and control solutions you can trust.
Get started with a free quote for bat proofing service, or 24 hour bat removal if you have a bat in the house. Contact us anytime by email, or call our office directly at 804-729-9097 to request written estimates and information for Virginia bat removal and control.
You Might Also Like:
Which Bats are Native to the State of Virginia?
Frequently Asked Questions About Bat Removal and Control
Where Do Bats Go After Removal?