You have questions about bat removal service and Virginia Bat Removal has the answers. Continue below to review some of our most frequently asked bat removal questions we hear from our customers and callers, including how to get started with free bat control advice or schedule an on-site inspection.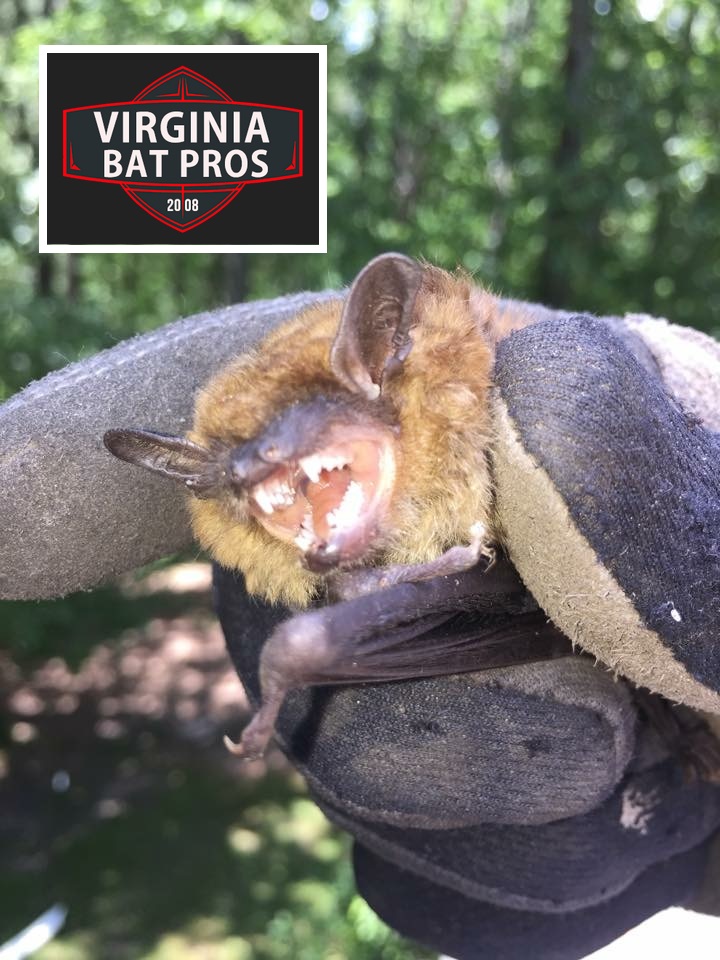 Top Bat Removal Questions We Get the Most
Do I Have Bats?
If you suspect that bats may be in or around your property, there are common signs to look for. Bats make a lot of noise, sounds inside walls like squeaking, shuffling, chattering, or chirping, your suspicions could be right. If you see oily or dirty spots on the outside of your house, this is a common indication that bats are using that spot as an entry point to get inside your home. Bats fur leaves dark marks behind every time they come in and out of your house.
Another common sign of bats in the house is a lingering smell. After some time, the accumulation of bat guano (droppings) and urine will saturate floorboards and drywall, eventually seeping through to the living quarters of the home and generating a lingering odor. Bat droppings are another prime indication of nearby bat activity.
Guano looks similar to rodent droppings. If you have a bat intrusion, you will likely see an accumulation of bat guano around walls and windowsills, as well as roofs and gutters. Wherever the bats are entering and exiting your home, there will probably be a pile up of droppings as concrete evidence.
How Much Does Bat Removal Service Cost?
Richmond bat removal service fees are comparable to getting your HVAC unit serviced or repaired. Depending on the complexity and scope of the job, bat removal costs can range anywhere from $75 up to thousands of dollars or more. Bats leave behind big messes, and if an infestation goes undetected for a long period of time, the damages can require costly and invasive renovations. This situation can increase the total cost for bat removal service.
Does My Insurance Cover Bat Removal Service?
Because the cost for about removal service can add up, many people want to know if their insurance will cover it all. The answer depends on your particular homeowners' insurance policy. Fortunately, most insurance policies do provide some degree of coverage for damages caused by bats. It is important to understand that your policy might not cover the cost about removal and remediation services fully. It really depends on your particular policy limits and deductible, plus additional factors like how long the infestation existed before discovery and intervention. For those with "stated coverage" policies, bat damages are not usually covered.
Do I Need to Get a Rabies Shot?
After we have removed bats from a client's home or business, they often ask if they now require rabies shots or vaccines. This is an understandable concern considering the fact that bats are known carriers of the rabies virus, which is fatal once contracted. Postexposure rabies shots are only required for those who have actually been exposed to a bat bite, scratch, or mucous membrane exchange. Specifically, the CDC suggests seeking out Rabies postexposure prophylaxis (PEP) after being potentially scratched or bitten by a bat or have had mucous membranes exposure to a bat. Rabies can be transferred via saliva and similar mucous membranes.
Can I Keep a Bat as a Pet?
It is a common question we get about retrieving a bat in the house or on the property. People want to know if they can keep the bat as a pet, especially if it's a baby. Baby bats are cute, as most baby animals are! But the reality is that keeping a bat as a pet is inhumane. Unfortunately, it is never recommended to keep a bat as a pet, in fact it could be against state and federal law. Many bat species in Indiana are federally protected by the Endangered Species Act. Regardless of conservation status, no bat should be kept as a pet. Would you like to be held captive in a cave for the rest of your life? Or would you prefer to be free to explore the open air and natural environment around you? That's how a bat would feel if you kept it as a pet!
Where Do Bats Go After Removal?
After our Richmond Virginia bat removal technicians extract bats from a property, we transfer bats to one of two locations: either a testing center to have the bat tested for rabies, or to a local rehabilitation sanctuary where they can live out the remainder of their lives in their natural habitat, far from residential and metropolitan areas.
How Do I Get a Bat Out of My House?
Never attempt to touch, trap, harm, or kill a bat in the house or on your property. Instead, contact Virginia Bat Pros at 804-729-9097 for prompt and professional bat removal and control services at the right price. We serve all of Virginia, including Roanoke, Midlothian, Fredericksburg, Glen Allen, and more.
Related Posts:
Can I Exterminate Bats in Virginia?
Why You Need a Professional to Get Rid of Bats
How Do-It-Yourself Bat Removal Can Lead to a 50 Thousand Dollar Fine